Perched at 500 metres above sea level, Cortona dominates the entire Valdichiana, with a view that stretches as far as Monte Amiata.

The town is entirely surrounded by fortifications, that constitute an interesting archaeological element as well as one of its most beautiful aspects. Most of the buildings and streets within the city date from Medieval times – the Basilica of Santa Margherita and the Celle Franciscan sanctuary placed above the city make it natural for any tourist to conduct their visit 'downwards' into Cortona.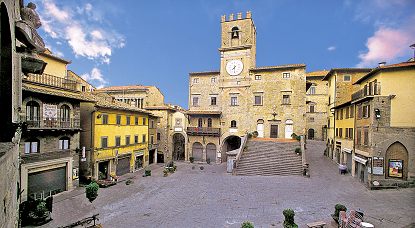 Cortona

The only horizontally-running street in Cortona is Ruga Piana, now called Via Nazionale, and leads directly to Piazza della Repubblica dominated by the Medieval Palazzo Comunale, formerly Palazzo Casali, once the home of this aristocratic family and that now houses the Museo dell' Accademia Etrusca. The museum houses an interesting collection of Etruscan and Roman artefacts.

On the opposite side of town, opposite the Romanesque cathedral, stands the Museo Diocesano, which contains some important works by Luca Signorelli and one of the finest Annunciations to have been painted by Beato Angelico.

Beneath Cortona, further down the hill on which the city stands, there are the Etruscan Meloni I and II del Sodo tombs as well as a hypogeum dating from the 6th century BC.

Towards Foiano della Chiana stands the abbey of Santa Maria a Farneta, one of the oldest examples of Romanesque architecture.

Of the annual events organised in Cortona, one of the most interesting is CortonAntiquaria antiques fair that is housed in the 18th century halls of Palazzo Vagnotti and Palazzo Casali from the last Saturday in August to the second Sunday in September.
SIENA ONLINE advise hotel at Cortona and surrounds

Hotel il Melone * * * * - Loc. il Sodo - Case Sparse, 37 - 52042 Cortona Tel. +39 0575 603330 - Fax. +39 0575 630001 • Our elegant and charming hotel Il Melone has twelve wide double rooms equipped with private bathroom with bathtub and shower, minibar, satellite TV, hairdryer, air-conditioning, safe, telephone and ADSL.

Web site languages: Italiano English Deutsch Français Españiol

SIENA ONLINE advise farm holidays, country house, villas and historic residence at Cortona and surrounds

Agriturismo Agrisalotto Loc. Burcinella, 88 - S. Caterina di Cortona 52040 Cortona (Arezzo) Italy Tel. e Fax +39 (0) 575 617417 Mobile +39 339 1704666 email:agrisalotto@cortonaguide.com • Agrisalotto, an élite "agriturismo" and hotel restaurant, set in the heart of Tuscany represents a real peaceful spot in the luxuriant Valdichiana slopes. Set in a recently restored 18th century "Leopoldina" farm house, Agrisalotto is sober but impressive and its building retains a peaceful and rural atmosphere. Agrisalotto, a distinguished agriturismo for its refined welcome, consists of five little apartments provided with all comforts and furnished with antique family furniture.
Web site languages: Italiano English

Holiday Farm Parco Fiorito - Loc. Piazzano, 33 - Tel. +39 075825340 Fax +39 075825340 Mobile +39 3408303375 • In the three main farm structures are found independent apartments beautifully rennovated in wood and terracotta. The farm Parco Fiorito is situated around a rennovated 16th Century Convent and it enjoys a superb view of the Tuscan hill town of Cortona.
Web site languages: Italiano English Deutsch Français Españiol

Residence il Melone- Loc. Loc. il Sodo - Case Sparse, 37 - 52042 Cortona Tel. +39 0575 603330 - Fax. +39 0575 630001 • Our eight spacious apartments are located where a little settlement once stood in the 19th century. The restoration of the set of buildings has been carried out with the uttermost respect for the original architectural features. The Borgo included a manor surrounded by a group of smaller farmhouses where the products of the land, such as oil, grapes, and wheat were collected and processed.

Web site languages: Italiano English Deutsch Français Españiol