Agriturism Marciano

From Rome: Arrived to Siena, turn on the motorway (Siena-Firenze), direction Florence, exit Siena Nord.

From Florence: Direction SIENA (Motorway FIRENZE-SIENA), exit Siena Nord..

When you will reach Siena Nord you will follow the borders for "Centro Città", and you will reach via Fiorentina. After two traffic lights, 300 meters , you will turn right in direction of "Park Hotel", on the road for Marciano: after Park Hotel, you will follow your route till you will see on the right the small church. Here you will turn on 3 Strada della Befana and after the age-old cypresses boulevard, you will stop at the first mansion on your left you are finally arrived and... you are welcome!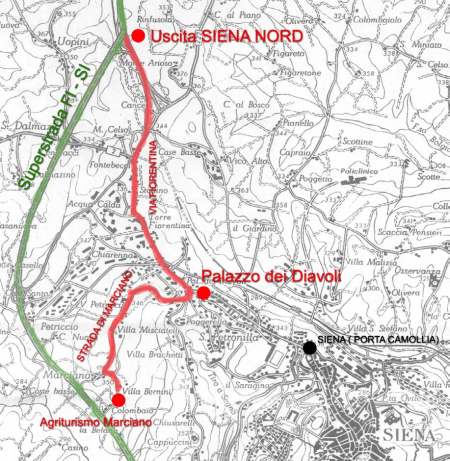 Click to enlarge

Download the map file Acrobat pdf.
Web site by SCG Business Consulting Internet Advertising Division 2019 - All Rights Reserved©